Shree Salasar Balaji Dham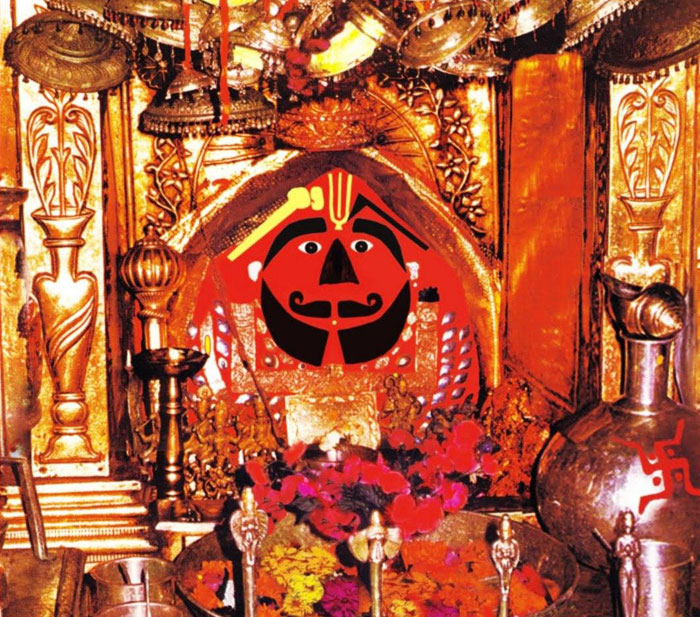 Shree Salasar Balaji Dham is situated in Village Salasar in Churu District of Rajsthan, around 57 kms from Sikar and 24 kms from Sujangarh on Jaipur-Bikaner Highway. It is the grace and blessing of Shree Salasar Balaji Bhagwan which has led our group towards high steps of success and to emerge as a business group. We use to visit Shree Salasar Balaji Dham in regular intervals and also request everyone to visit their and get fulfilled with grace and blessings of Shree Salasar Balaji Bhagwan.
Corporate Profile
We are one of the leading Exporters & Suppliers of Ferro Alloys & Steel Products in Chhattisgarh and around. Shree Salasar Group was established in 2006 by Mr. Pankaj Parakh under direction, vision and proficient guidance of Shri I. C. Parakh. In a very short period of time we earned experience and in depth understanding of the product and the industry, we have attained a reputable position in our business sphere. Rearing to grow Shree Salasar Steel Suppliers has expanded its reach across nationwide and even abroad. In India we have major clients from Maharashtra, Gujarat, Kerala, Madhya Pradesh & Karnataka.
Chhattisgarh being the major power hub and rich in agriculture sector, Shree Salasar Group is planning to strengthen its presence and diversify into these sectors. We are also diversifying into Ferro Alloys and Power manufacturing and are here to scale the new heights that have never been thought ever before. This move will enabled the quick growth by ensuring addition of a host of new customers.
Shree Salasar Group Has been rated SE-2B by NSIC-CRISIL for the year 2013-2014. In the same year we have also crossed the turnover of more than 100 Crores.
Certificates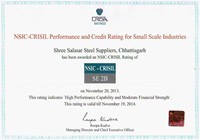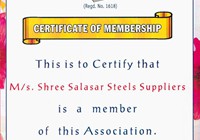 Vision
We strive to deliver beyond expectations and envision a leadership position to be the best in the world. Our vision of being a winning organization is driven by business processes that are dynamic, quality that is world class, and an innovative approach to understand market dynamics.
Mission
We continually improve performance and achieve excellence to become the market leader in our field.. Our mission is to exceed exception by offering best products and strong bond of confidence with our customers to maintain a continuous level of growth by supplying products of international quality at the most competitive prices.
Core Values
Facilitate all-round excellence.
Satisfy internal and external customers.
We are committed to convert our dreams into reality by seamless execution of our strategy.
A home beyond home - nurturing an environment of mutual trust, respect, humility and dignity.
Founders
The group is founded and led under the proficient guidance of Shri I. C. Parakh, who has rich business experience of more than three decades. He started his business journey with family business of jute in West Bengal. Then he moved to Raipur city and within a couple of years began supplying Ferro Alloys & Steel Products, a business which was entirely different from his past ones. His business skills and experience led Shree Salasar Group to gain success in a very short interval as well as stand strong in the industry. His self determination, resilient mind, fortitude and a careful guidance matured his son into a fine human being and an astute businessman. Besides looking after business he did a lot of social welfare activities. Shree Salasar Group dedicates itself to his ideals and values and continues to draw inspiration from his life and accomplishments.
Mr. Pankaj Parakh, son of Shri I. C. Parakh and the co-founder of Shree Salasar Group, has supported the group in every sphere with his vast understanding and knowledge in the field. Mr.Pankaj Parakh is also Director of Public News (Newspaper of Delhi) and President of Anti-Corruption Council of India (Chhattisgarh). With a growth of such astounding proportion, the group quickly gained the status of renowned Exporters & Suppliers of Ferro Alloys & Steel Products in Chhattisgarh and around.